I know we sound like paranoid parents, I am not so worried about the scar so much but worried more if anything beyond that we can see. Adam tripped and knocked his head on the edge of the bed. Nobody to be blamed because accident happened. The wound was deep as he can see his nose bone. So we went to GMC as soon as possible. J admitted with Adam as I am taking care of Sophie. He need to be stitched and the procedure was done by ear nose and throat specialist also to male sure no fraction and he can breath properly.
I was worried so much as this is the first general anesthetic he has to go through. I kept reminded J to make sure he wakes up and tell me when the procedure finished. All went well. The stitch was like jigsaw puzzle as it wasn't straight cut.
Adam is good now. Been eating a lot.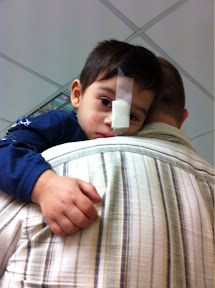 VBefore the stitch.
- Posted using BlogPress from my iPhone